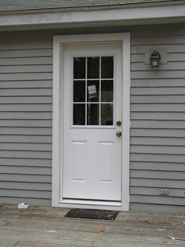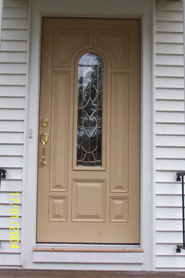 You know how it is when the weather outside is freezing: just opening the door for a minute can make way for gusty winds and chill you to the bone. In many homes, however, the cold drafts continue to enter the premises even when the door is closed. If that rings a bell for you, it's time to turn up the heat in your house with replacement exterior doors from Northshore Window and Siding. In addition to being one of Boston's most acclaimed window and siding contractors, we're also among the area's top door contractors. If you'd like to rid your residence of doorway drafts, and feel a noticeable difference in the comfort of your home, contact us today by phone or e-mail!
At Northshore Window and Siding, we know that a door is much more than simply a way in and out of your home. The exterior doors of your residence are your first line of defense against inclement weather and various other dangers from the outside world. That's why all of our exterior replacement door services include meticulous installation and attention to detail. As licensed and certified door contractors, we specialize in eliminating leaks and heat transfer and providing maximum safety and performance for your property.
On top of their improved comfort and energy-efficiency, replacement exterior doors from Northshore Window and Siding are an easy and affordable way to update and enhance the curb appeal of your property. We offer a wide array of top-quality replacement door options from such leading manufacturers as Therma-Tru and Masonite. Our tremendous selection of exterior replacement door choices includes:
Fiberglass exterior doors
Steel exterior doors
Wood exterior doors
Extensive variety of window designs
Styles to fit every home
Your choice of finishes
And more
If you prefer to keep your existing door, Northshore Window and Siding provides exterior door repair services as well as exterior door replacement. Depending on the extent of the damage, we may be able to restore the full function and aesthetic appeal of the door you already own. Should you decide to update to a new model, all of our exterior replacement door installations include full weather stripping, and we also offer storm doors for maximum energy efficiency. Remember, as is the case with windows, replacement exterior doors can help you save a bundle on annual energy costs. Older doors are not nearly as well insulated as today's advanced designs and can often leak, allowing your heated or cooled air to escape through the gaps. With an exterior replacement door upgrade, you'll get an airtight seal to keep the drafts from coming in and add a whole new level of comfort and protection to your Boston-area household.
To get started on your exterior replacement door installation, contact Northshore Window and Siding today over the phone or online. Our experienced door contractors are available seven days for all of your exterior door replacements and repairs. Just pick up the phone and call!